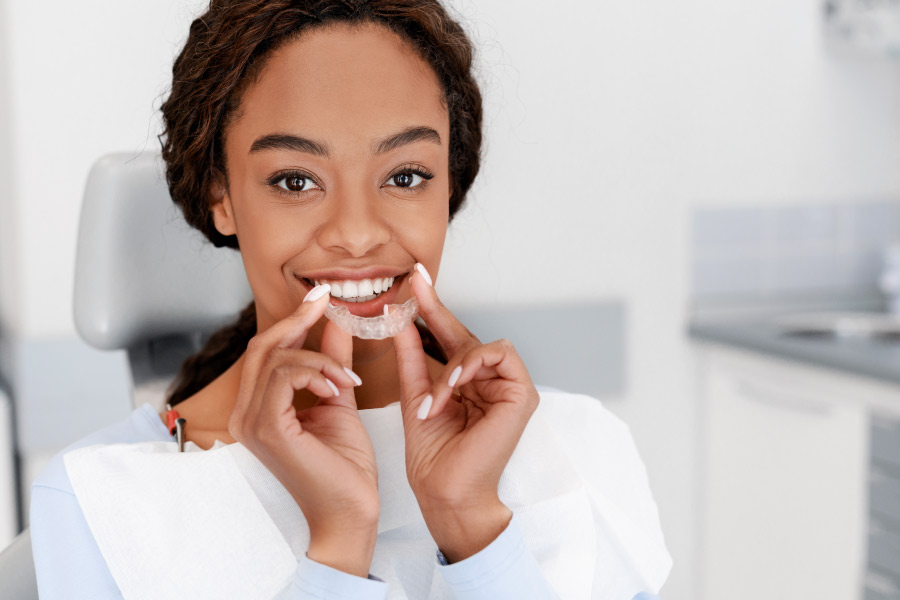 If your teeth are crooked, you may be a good candidate for Invisalign®! This popular brand of clear aligner therapy uses gentle pressure to move teeth into a straight position. Before starting treatment, what should you know?
#1. The average treatment time is 12-18 months
Every case is different, but on average, you can expect to wear Invisalign for 12-18 months. Metal braces take an average of 18-24 months, so it's very likely your smile will straighten quickly with Invisalign!
#2. You need to wear your aligners 20-22 hours a day
Invisalign trays are removed for eating, drinking anything other than water, and cleaning, but you need to wear them 20-22 hours a day. If you're not wearing them enough, you won't see the results you want and your treatment will last longer.
#3. Invisalign trays need to be cleaned
Invisalign can get dirty and cloudy from sitting in your mouth all day, so they need to be cleaned regularly. Whenever you take them out, it's a good idea to at least rinse them with lukewarm water. For a more thorough cleaning – which should happen at least once a day – you can use a special Invisalign cleaning solution or mild dish soap. Never use hot water or an abrasive toothpaste.
#4. There are follow-up appointments
Once you start Invisalign, you'll need regular follow-up appointments. We'll check your teeth to make sure treatment is going as planned. We'll also give you the next Invisalign trays in your treatment because as your teeth straighten, you need new trays. To maintain great oral health, you should also visit us every six months for cleanings and exams.
#5. Invisalign can be uncomfortable at first
When you start Invisalign (and whenever you get a new tray), some discomfort is normal. Your teeth are being pushed into a new position, so you're bound to feel some pressure. As your teeth adjust to the new trays, you should feel more comfortable.
Invisalign at Prestige Family Dentistry in Flower Mound, TX
Invisalign is a great treatment for people wanting straighter smiles! Unlike metal braces, they're removable, nearly invisible, and more convenient. If you're interested in learning whether you're a good candidate or want to schedule another service, please contact us today!

Meet Our Team

Explore Our Office

Contact Us
Prestige Family Dentistry
Average rating:
0 reviews