Oral Appliances
Custom-Fitted


Oral Appliances

At Prestige Family Dentistry, we proudly offer a variety of custom-made oral appliances to combat a diverse range of circumstances. From sportsguards to sleep apnea appliances, we can fabricate a personalized mouthpiece that will safeguard your oral and overall health. Get in touch with our office to schedule your oral appliance consultation!

Contact Us
Sportsguards & Nightguards
Our custom-fitted sportsguards can help protect you or your child's teeth while you're having fun. Sports-related dental injuries are very common, that's why it's crucial to wear a mouthguard while participating in contact sports.
If you're suffering from bruxism (teeth grinding), we offer thick, durable nightguards to wear while you sleep. Nightguards create a barrier between the upper and lower jaw to absorb impact and prevent damage to the teeth.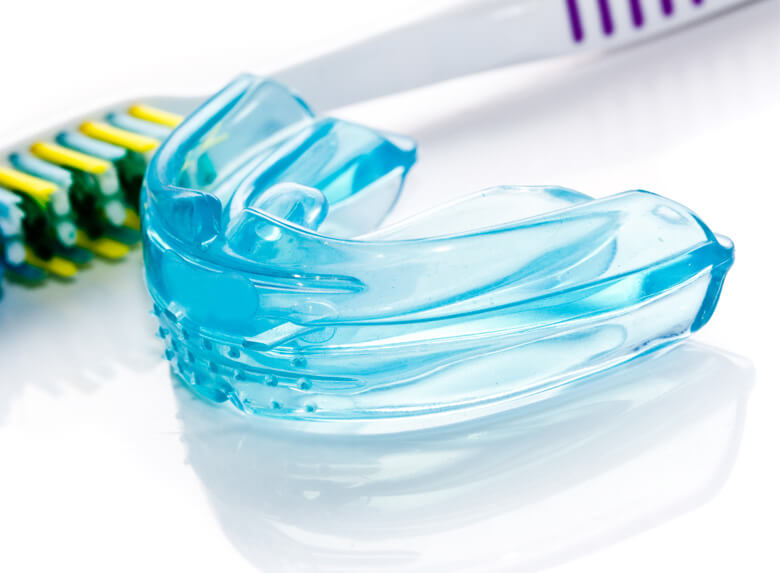 TMJ/TMD Therapy
Our oral appliances can help combat symptoms of temporomandibular joint (TMJ) disorder. The TMJs are the joints that connect the jaw to the skull and allow the jaw to move up and down and side to side. Our handcrafted TMJ appliances hold the lower jaw in a comfortable position to help alleviate pressure on the jaw joints, allow them to heal, and reduce inflammation. Common symptoms of TMD include:
Chronic Headaches
Discomfort when Biting or Chewing
Pain when Opening & Closing Mouth
Popping or Locked Jaw
Soreness of Facial Muscles
Teeth Grinding

Sleep Apnea Treatment
If you have obstructive sleep apnea and the CPAP machine isn't working for you, our custom sleep appliances may be able to help you get the good night's sleep you deserve. Obstructive sleep apnea happens when the soft tissues in the back of your throat collapse and obstruct your natural breathing pattern. Our sleep appliances reposition the jaw to ensure that your airway stays open while you sleep.
What is the process for getting an oral appliance?
After your initial consultation, impressions of your teeth will have to be taken to create your custom oral appliance. This can be done either with plaster molds or digital impressions that are taken with an intraoral camera, or a combination of both. Once the impressions are made, they will be used to create your custom mouthguard. A follow-up appointment will be scheduled after your new oral appliance arrives so you can try it on in our office, and we can make any necessary adjustments and answer any questions you may have.
Are oral appliances uncomfortable to wear?
One of the great things about custom oral appliances is that they are designed just for you, making them far more comfortable than a one-size mouthguard. Our team will work with you to ensure that your oral appliance works properly and is comfortable to wear. If you have never used an oral appliance, it may take a little while to get used to at first. If you have any questions or concerns about your custom oral appliance, our team would be more than happy to assist you.
How much do oral appliances cost?
Custom oral appliances are a bigger investment than a one-size mouthguard, and the exact cost will vary depending on your specific treatment plan. Fortunately, Prestige Family Dentistry accepts a wide variety of payment methods, including several third-party financing options, which can help split the cost of dental services into manageable monthly payments. Some dental and medical insurance plans offer full or partial coverage for custom oral appliances, so we'd recommend checking with your insurance provider(s) as well.