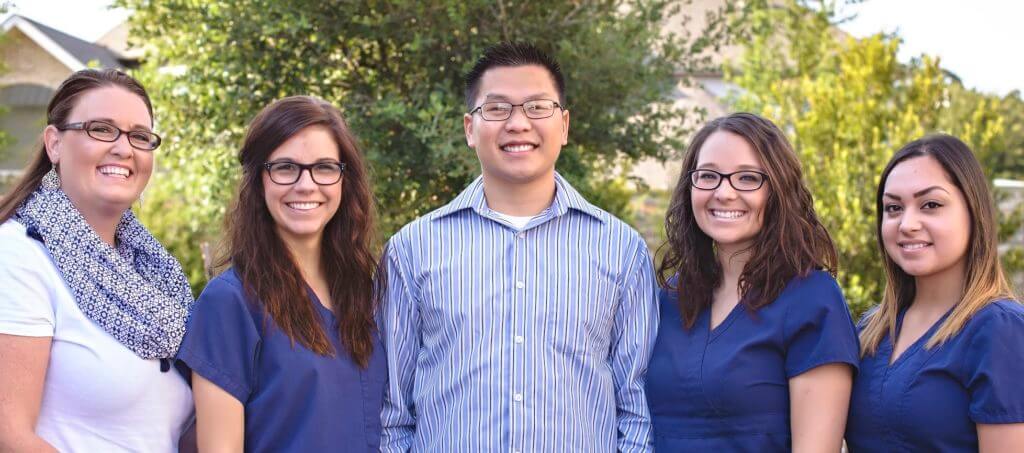 Caring For More Than Just Teeth!
Prestige Family Dentistry is proud to offer comprehensive dental care for the entire family. What sets us apart is simply that we truly CARE for you and your family. Whether your goal is to maintain your beautiful smile, achieve the smile of your dreams or to overcome your dental fears, it is our hope that you will give us the opportunity to help you achieve the healthy and beautiful smile that you have always wanted.
Proudly caring for Flower Mound, Lewisville, Highland Village, Lantana, Argyle and Bartonville.
Give us a call to schedule your appointment today!

Dental Cleanings: A healthy smile begins with prevention! This includes routine check-ups and professional dental cleanings. Problems that are detected earlier end up being much easier and much less expensive to repair.

Sedation Dentistry: Scared of the dentist? Don't let your fear of the dentist keep you from the smile you deserve. We offer both oral sedation and intravenous (IV) sedation to make your visits more comfortable and relaxing.

Cosmetic Fillings: Dental fillings are used to repair cavities caused by decay as well as to repair broken or chipped teeth. We are proud to exclusively offer cosmetic tooth-matched, non-metal fillings. 

Dentures: Dentures can be used to replace a single missing tooth (partial denture) or all of your teeth (complete denture). Dentures are typically the most affordable option for replacing missing teeth compared to dental bridges or dental implants. 
Bonding: Cosmetic dental bonding involves bonding tooth-colored material to a tooth. This is a very conservative approach to repairing chipped teeth, closing gaps between teeth and removing discolorations in teeth. 

Cosmetic Dental Crowns: Dental crowns are used to repair and protect teeth that have large cavities, previously had large fillings, and cracked or broken teeth. We are proud to exclusively offer cosmetic, no-metal crowns that offer unsurpassed strength and natural beauty.

Dental Bridges: A dental bridge is used to replace the space of a missing tooth by placing crowns on the teeth adjacent to the missing space and connecting them together. A dental bridge is a quicker alternative to dental implants that require up to 6-12 months of healing before a crown can be placed.

Dental Implants: Dental implants are an excellent option for replacing single or multiple missing teeth. Dental implants can help restore your confidence in your smile as well as allow you to enjoy eating again. Call to schedule your FREE dental implant consultation today! 

Teeth Whitening: Cosmetic teeth whitening is a quick and effective way to enhance your smile and improve your overall confidence. We offer several options to fit your cosmetic whitening needs.

Cosmetic Veneers: Veneers are thin, tooth-colored shells that are bonded onto the front surfaces of teeth. Veneers can be used to change the size, shape and shade of teeth with minimal removal of tooth structure. Interested in veneers? Schedule your free consultation today!

Dental Emergency: Dental emergencies always happen at the worst times! Whether it is a toothache or a broken tooth, we aim to address your dental emergency as quickly as possible. Give us a call today at (972)539-2820!

Athletic Mouthguards: Athletic mouthguards are used to protect teeth and jaws from unintended injuries that commonly occur with contact sports. A custom fit athletic mouthguard can provide the highest level of comfort and protection compared to store bought mouthguards.

Night Guards: Night guards (occlusal splints) help protect your teeth and joints from the negative effects of clenching and grinding. Nighttime clenching and grinding can lead to TMJ pain as well as lead to worn and broken teeth. 

Invisalign Braces: Invisalign aligners are the clear alternative to metal braces. These clear trays are the virtually invisible way to improve your smile.

Botox: BOTOX® can be used for the treatment for TMJ (temporo-mandibular joint) disorders, associated jaw tension and pain and to relieve the effects of clenching and grinding.

Juvederm Filler Treatment: Juvederm® is a non-invasive, FDA approved, injectable gel that can be used for the correction of wrinkles and volume loss in the structures around the mouth as well as for augmentation of the lips.