Oral Cancer Screening
Oral Cancer Screening

in Flower Mound, TX
Oral cancer can form in any part of the mouth, affecting your oral and overall health. The best way to prevent or catch oral cancer at an early stage is to visit your dentist for an oral cancer screening. At Prestige Family Dental, we offer oral cancer screenings for patients following preventive care measures or patients who have an oral concern. Get in touch with our office to learn more about mouth cancer screening information or schedule an appointment!
Contact Us
How often should I have an oral cancer screening?
While dentists thoroughly examine and evaluate your oral health during routine cleanings and exams, appointments for an oral cancer screening are recommended. The American Cancer Society recommends oral cancer screening exams every three years for those over the age of 20 and annually for those over 40. Visiting the dentist for a mouth cancer screening is the most effective way to protect yourself and your oral health.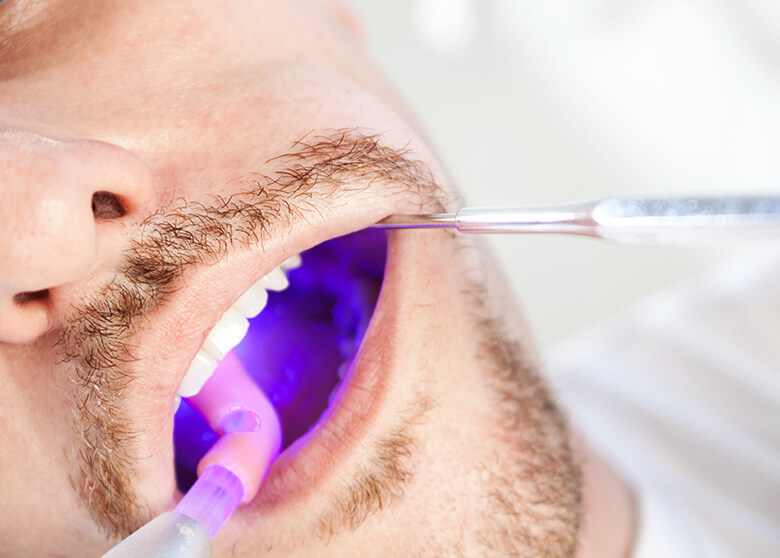 How common is oral cancer?
The American Cancer Society has reported that oral cancers are twice as common in men than in women. Overall, oral cancer accounts for roughly three percent of all cancers diagnosed annually in the U.S. This includes cancers of the mouth, throat, or tongue. Visiting your dentist regularly not only can diagnose or spot oral cancer but can help you take action as soon as possible if detected.
How do I know if I have oral cancer?
A mouth cancer test or screening is the best way to confirm whether or not you have oral cancer. However, there are symptoms that patients should look out for, such as discolored patches in the mouth, difficulty chewing, swallowing, or speaking, and lumps. Since oral cancer can spread quickly, detecting oral cancer as soon as possible is important. If you have concern that you may have oral cancer or an oral symptom that has not gone away, give our office a call to schedule an appointment with our oral cancer screening dentist.