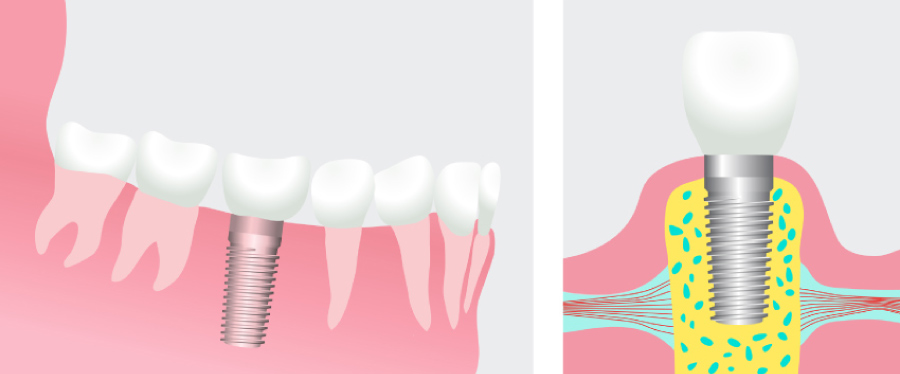 Dental implants do a lot more than just improve the look and feel of your smile. They actually benefit your health in general. Prestige Family Dentistry in Flower Mound, TX is pleased to offer dental implants as one of our restorative treatments.
What Are Dental Implants?
A dental implant is a titanium post that is used in restorative dentistry. The post is surgically inserted into the jawbone to replace a lost tooth. As the area heals, the jawbone and the implant fuse together, creating a sturdy base for the restoration. Implants are favored as a tooth replacement option because they are so comfortable that you won't even know you have a replacement tooth! They are a long lasting, durable, and natural-looking way to fill a gap in the smile.
How Dental Implants Can Improve Your Overall Health
There are a number of ways that replacing your missing teeth with dental implants can benefit your oral health and therefore your overall health.
Improve Chewing Function
With missing teeth, it can be difficult and uncomfortable to chew your food properly. As a result, many patients end up eating less, or a less nutritious diet. With implants, you'll be able to chew comfortably, just as you would with your natural teeth.
Boost Your Self-Confidence
Having a low opinion of yourself can take its toll on your health and well-being. If you're not confident in your appearance, including your smile, your mental and emotional health can suffer. You're also less likely to put time and effort into taking care of your health and your dental wellness. Implants will improve the look of your smile by closing up the gaps with natural looking replacement teeth. Having an attractive smile will make you feel more self confident.
Maintain Your Jaw Health
It's actually important to the integrity of your jawbone that you find a restorative solution to your missing teeth. When you have a missing tooth, your jawbone can lose density. Over time, this can alter the shape of your face. Additionally, other teeth can shift into the space left by the missing tooth. This can cause your teeth to become misaligned which often causes jaw pain or headaches. Dental implants can stimulate and protect your jawbone. An implant and dental restoration will also keep surrounding teeth from shifting into the space left by a missing tooth.
Dental Implants in Flower Mound, TX
Dental Implants are quickly becoming the most popular restorative procedure available. Whether you are missing a single tooth or several teeth, implants can be a solution to restore your smile. They are very versatile and can be combined with many different restorations like dental crowns or dentures. To book a consultation for your implants, call our office or click the contact link.