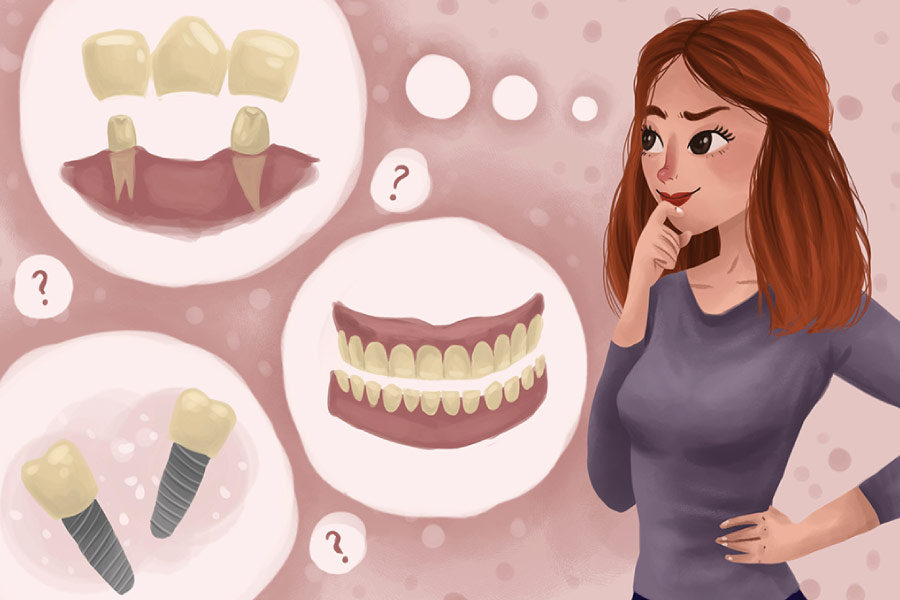 Tooth loss affects many aspects of your life. It changes your appearance, what kinds of food you can eat, and eventually your jawbone density. Luckily, there are a handful of tooth replacement options available. What works best for you?
Dentures
Dentures have greatly improved since they were first invented. We offer three kinds: partial, full, and implant-supported. Partial dentures are great if you're missing just a few teeth. Full dentures replace an arch or even all your teeth. Implant-supported dentures are held in place by 4-8 implants, so they're more secure than a traditional pair of dentures. If you decide on dentures, they're custom-designed in a lab and sent to our office. They last about ten years when you take good care of them.
Implants
The implant process is more complicated than dentures because an implant requires surgery. We surgically implant a post into your jaw, which replaces the root of your missing tooth. For single tooth implants, we'll place a crown on top of the post. Implant-supported bridges connect to two dental implants, so they're a good choice for replacing multiple teeth in a row. As mentioned earlier, there are also implant-supported dentures. Implants are cared for just like natural teeth. The implant itself can last indefinitely. The lifetime of the restoration will vary depending on the type, location in your mouth and how it's cared for.
Which Tooth Replacement Is Best?
Whether dentures or implants work best for you depends on a few considerations. The health of your gums and jawbone density matters. There's also the cost, which varies depending on how many teeth you're missing. We'll always discuss the cost in detail before beginning any dental work.
Restoring Your Smile at Prestige Family Dentistry
Whether you're missing one tooth or all your teeth, Dr. Nguyen and the team in Flower Mound, TX are here to help! During your consultation, we'll figure out what tooth replacement option works best based on your needs and budget. By restoring your smile, you'll enjoy renewed confidence, a more varied diet, and other great benefits! Please contact us today with any questions or to book your appointment.