We are an Invisalign® Preferred Provider

Find out exactly how we can help you get the straight, perfect smile you want without using metal braces. We will explain exactly how the Invisalign® treatment process works and what your payment options are below.
We are proud to offer Invisalign® clear aligners for patients who want to straighten their teeth without the hassle of brackets and wires.
Prestige Family Dentistry is an Invisalign® Preferred Provider. We have helped lots of people get the smile they've always wanted using virtually invisible clear aligners.
What is Invisalign®?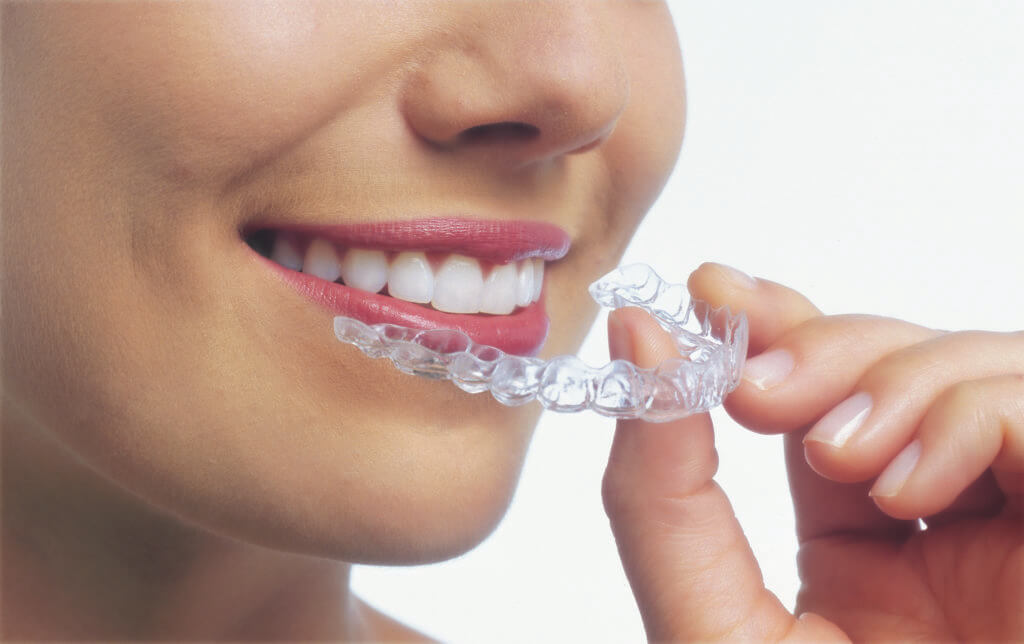 Invisalign® clear aligners are clear custom trays that fit right over your teeth. Each set of trays slowly shift your teeth to achieve a straight, well-aligned smile.
These trays are easily removed when eating and brushing and are virtually invisible. Many adults mention that their friends and colleagues don't notice that they are wearing trays at all!

How Does Invisalign® Work?
Your Invisalign® clear aligners are custom-made for you, are virtually invisible and fit snugly over your teeth.
Each set of aligners slowly shift your teeth, moving them where they need to be. Your aligners are engineered to use the right amount of force in the right place at the right time.
When you change to your next set of aligners (typically every two weeks) your teeth continue to gradually move into position.
What Will it Be Like to Straighten My Teeth?
One of the best things about Invisalign® is the minimal impact that it actually has on your everyday life. Since the aligners are so comfortable, you should be able to wear them for the recommended 22 hours a day without much effort.
Maintaining Oral Hygiene
Invisalign® aligners are easily removed so that you can continue to brush and floss your teeth as you normally would. Cleaning your aligners is just as easy as brushing and rinsing them in lukewarm water. That's it! Achieving that great smile couldn't be any easier!
Eating and cleaning your teeth
You'll also remove your aligners each time you eat. This means you can continue to eat all the foods you love without any restrictions or worrying about food getting stuck in your brackets and wires. Your normal bedtime routine can continue just as before, with the simple addition of cleaning your aligners.
What to expect when you come see us:
From consultation to confident new smile, you'll know exactly what to expect every step of the way.
At your initial consultation, we will discuss your needs and evaluate whether Invisalign® is right for you. At this visit, a digital scan of your teeth will be performed to obtain a 3D image of all of your teeth. Photos will also be taken to better customize your treatment.
Your Custom Treatment Plan
We will map out a precise treatment plan, including the exact movements of your teeth and how long your treatment will be. You'll even get to see how your teeth will move and preview your new smile.
Your Invisalign® Clear Aligners
Your custom-made aligners will be made of our proprietary SmartTrack® material. They're virtually invisible, so most people won't even notice you're wearing them.
Wear your Invisalign® clear aligners 20 to 22 hours a day for the best results, taking them out to eat and to brush and floss.
As you wear each set of aligners, your teeth will gently and gradually shift into place. We will typically recommend that you begin wearing your new aligners every two weeks and come in to see us for check-ups every month.
At every stage you'll be able to see your progress and just imagine how far your new smile will take you.
Taking Care of Your New Smile
When your treatment is complete, a set of retainers will be made to hold the teeth in place. Clear retainers are custom-made using the same state-of-the-art technology as Invisalign® clear aligners.
 Give us a call to schedule your complimentary Invisalign® consultation today (972)539-2820!
How Much Does Invisalign® Cost?
Your smile is an investment in yourself.
The cost of Invisalign® treatment is similar to braces, but that's where the similarity ends. Invisalign clear aligners are removable and virtually invisible, so you can keep living your life and caring for your teeth throughout treatment the same way you always have.
What Determines Your Cost?
The cost of your Invisalign® treatment is $5,495.00 but may vary depending on the following:
-The complexity of your case
-How long you are in treatment
-Your dental insurance coverage
 Give us a call to schedule your complimentary Invisalign® consultation today (972)539-2820!
We have over 150 Patient Reviews on Google:
Your Payment Options
Insurance
Many dental insurance plans that have orthodontic coverage will also cover Invisalign® treatment. In many cases this can save you up to $3,500 of your treatment cost. Ask us about how to use your orthodontic insurance coverage to pay for your Invisalign® treatment.
Payment Plans
Many patients with dental insurance have some coverage for orthodontic treatments like Invisalign®. Call us and we can check to see if you are covered under your insurance!
For patients without insurance, we also offer several payment options including CareCredit, LendingClub and in-office payment plans. For more information please contact our office and we can walk you through your options!
 Give us a call to schedule your complimentary Invisalign® consultation today (972)539-2820!
-Or-