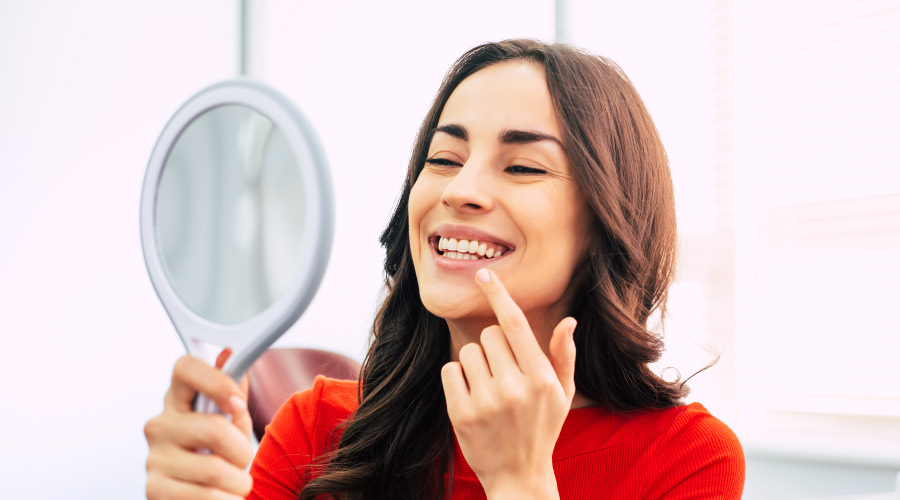 Stains, chips, and cracks in your teeth can hold you back from fully embracing your smile. If you're dreaming of a perfect smile in 2020, dental veneers may be the right choice for you!
What are Dental Veneers?
Dental veneers are ultra-thin shells (usually made of porcelain or resin) that we bond directly onto your teeth to give them an improved appearance.
Dental Veneer Procedure
During your initial consultation, we'll go over your smile goals. Next we will create veneers that are natural-looking and beautiful for your smile. During the preparation stage, we'll remove a small layer of your tooth enamel in order to properly adhere your veneers to your teeth. We'll then bond them and you can start enjoying a beautiful smile again!
Benefits of Dental Veneers
Dental veneers carry a variety of benefits depending on your smile's needs. They can fix the appearance of your smile, including gaps, chips, cracks, discoloration, and even uneven tooth length. Because of their realistic material, you can smile confidently without feeling self-conscious about your veneers. They're also very easy to maintain, and you can brush your teeth with veneers just as you would your natural teeth. Dental veneers are very durable and can last up to 15 years or longer if you maintain a proper oral healthcare routine and visit us at Prestige Family Dentistry twice a year.
Affordable Dental Veneers in Flower Mound, TX
Dental veneers don't have to burn a hole in your pocket! Here at Prestige Family Dentistry, we offer a variety of financing options to help you get the smile you deserve at a price that you can afford. We accept dental insurance and work with two third-party financing options so that you can choose the payment plan that best suits your needs and budget. Visit our financial page to learn more!
Make 2020 the year that you get the smile of your dreams! Contact us today to schedule an appointment!