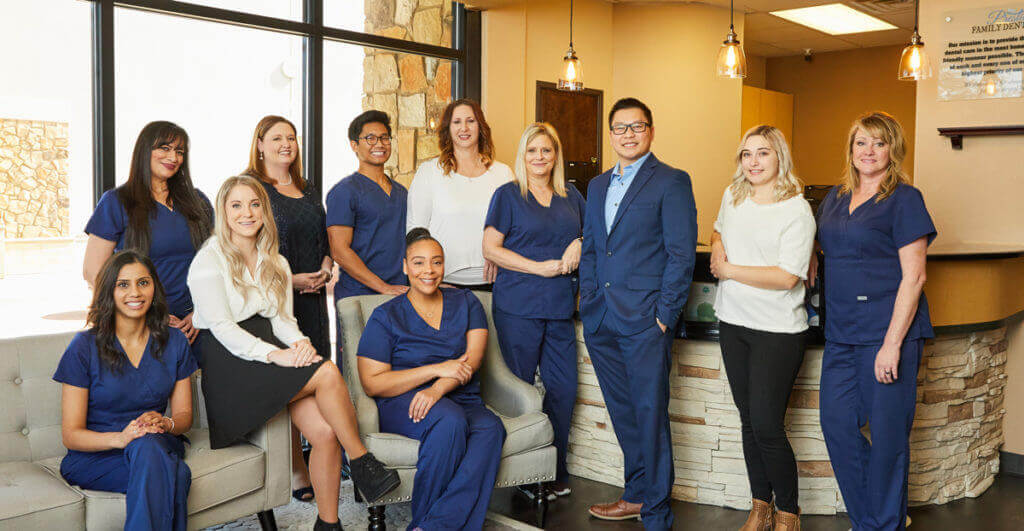 When you're at Prestige Family Dentistry, we hope you feel like a valued member of our dental family. Each of our team members is dedicated to your comfort, care, and health. If you're unfamiliar with everyone on our team, we want to make some introductions!
Our Dentists
Dr. Bryant Nguyen graduated from the Baylor College of Dentistry and completed an Advanced Education in General Dentistry Residency at the Central Texas VA Hospital in Temple. After his education, Dr. Nguyen set out to create a place where he could provide patients with honest and high-quality dental care. As the owner of Prestige Family Dentistry, Dr. Nguyen has established a patient-centered dental practice that focuses on and addresses the unique needs of each individual. With a conservative approach to dentistry, he is passionate about patient education and prevention.
Dr. Rinkesh Patel, our associate dentist, graduated from Texas A&M School of Dentistry and is certified and trained in a variety of advanced dental needs, including Invisalign® and sedation dentistry. Dr. Patel makes it a point to give back to the community, volunteering his time at Texas Mission of Mercy to ensure that veterans have great dental care.
Our Dental Coordinators
When you first walk into our comfortable office, call our phone, or email us, you're speaking to one of our friendly dental coordinators. Smile at Jenn as you walk in, she's our office manager. Our scheduling coordinator, Savannah, will take care of you when making appointments. Our receptionist Taylor will greet you with warmth and ask if you need anything while you wait. Our patient coordinator, Dana, makes sure our office is providing top quality dental services at all times to all of our patients.
Our Dental Hygienists
One of our three dental hygienists, Prerna, Annette, or Calleen, will take you back for your cleaning and help put any of your dental fears at ease. They are not only highly skilled and gentle, they are also ready to answer questions you may have about proper oral hygiene, oral health, your cleaning, or our other dental services.
Our Dental Assistants
Mayra and Raph, our dental assistants, will be there to serve you in dental procedures that require a second set of hands. For example, they often assist Dr. Nguyen and Dr. Patel for fillings, crowns, and extraction procedures.
Join Our Dental Family!
Not only will you receive superior service from our expert team, our modern and cozy office is equipped with state-of-the-art dental technology, massaging dental chairs, Wi-Fi, and TVs in our lobby and treatment rooms. It's our pleasure to serve you and your family! Let us know if you have any questions before, during, or after your appointment. We look forward to hearing from you soon.